Michele McGovern Bio
Michele McGovern is a musician, composer/arranger, and award winning flutist and film maker. She was awarded full scholarship for both her Bachelor and Master's Degrees in Music Performance from the Chicago Musical College of Roosevelt University. She was a first place winner in several competitions and a two-time recipient of the Farwell Award for musical excellence from the Musicians Club of Women.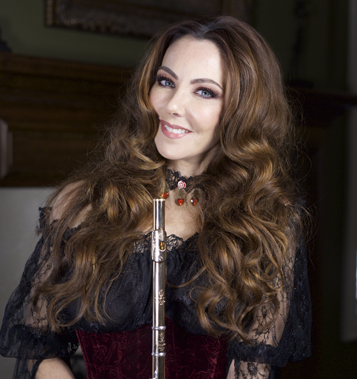 In 2014 Ms. McGovern's short musical film, Moonlight won "Best Music Video" at the Mexico International Film Festival and "Best Musical Short" from the Illinois International Film Festival. The soundtrack for the film was based on an arrangement of Beethoven's Moonlight Sonata (Mvt. #1) that she created with former Chicago Symphony pianist and Musicians Club of Women member, Melody Lord. The film was dedicated to the memory of Ms. Lord. You can further enjoy the cinematic experience of Michele's music by viewing her award- winning music videos and short film. Take a journey through snow covered forests with flute, cello, and piano in 'Winter's Beauty' or witness a mysterious meeting in the caverns of 'Pathways.' All of Michele's visual content is available on Youtube by searching "Michele McGovern" or by visiting www.FluteRoom.com
Ms. McGovern's debut album, "Falling Leaves" will be released on Centaur Records Label in early 2017. Falling Leaves is a collection of the latest original music by the international flutist Michele McGovern. Composed in collaboration with Tiko Lasola, Chris Kukla, and Gary Guttman, Falling Leaves takes the listener through a cinematic journey with sounds harvested from classical, jazz, rock, new age, and pop genres to create a truly mesmerizing experience. Michele's music may remind you of the Piano Guys, Lindsey Sterling, 2 Cellos, and Yanni, but with her and her flute taking center stage. Her latest adventure to bring flute to mainstream listeners includes a prologue performance of the new musical Lady Vadula.
In November 2014 Ms.McGovern performed her new compositions and arrangements on the east coast television show, Live From Center Sage in Cape Cod, Massachusetts. The show was broadcast to over 80,000 viewers. Her live performance is available on her youtube channel, www.YouTube.com/MicheleMcgovernFlute
Ms. McGovern's has had solo appearances with orchestras including the Mozart's D Major Concerto, Mozart's Andante, Vivaldi's il gardellino Concerto,Vivaldi's La Notte Concerto, Bach's Brandenburg Concerto No. 4 for two flutes and violin (with Flutist Mary Stolper and Violinist Rachel Barton Pine), Lukas Foss' "For Toru" (Lukas Foss conducting) and in the McGovern/Lord orchestral arrangement of Carmen. In 2001 she was invited to record as a soloist with the Saint Petersburg Camerata in St. Petersburg, Russia.
Michele performed and arranged music with pianist Melody Lord for over 12 years. A highlight was performing all 6 of their arrangements in New York City's Carnegie Hall in the Weil recital hall. As an orchestral and chamber musician Ms. McGovern performed with The Nutcracker Ballet, Chicago Sinfonietta, and was Principal Flute with the Lincolnwood Chamber Orchestra for over 15 years. She studied with Jean Berkenstock (former principal Lyric Opera Orchestra), Alexander Murray (former principal London Symphony), Donald Peck (former principal Chicago Symphony), Mary Stolper (Principal Grant Park Symphony), and was also a piano student of Melody Lord. She is a board member of The Musician's Club of Women, a member of The Union League Club, and an Artist-in-Residence with American Music Festivals.